Original Artwork Showcase 2



You will notice that there are blank caption boxes in some of the original artworks in the Showcase. The text for them
was added later during the editing and printing of Eagle.
A scan of a complete page from the "Prisoners of Space" Dan Dare story.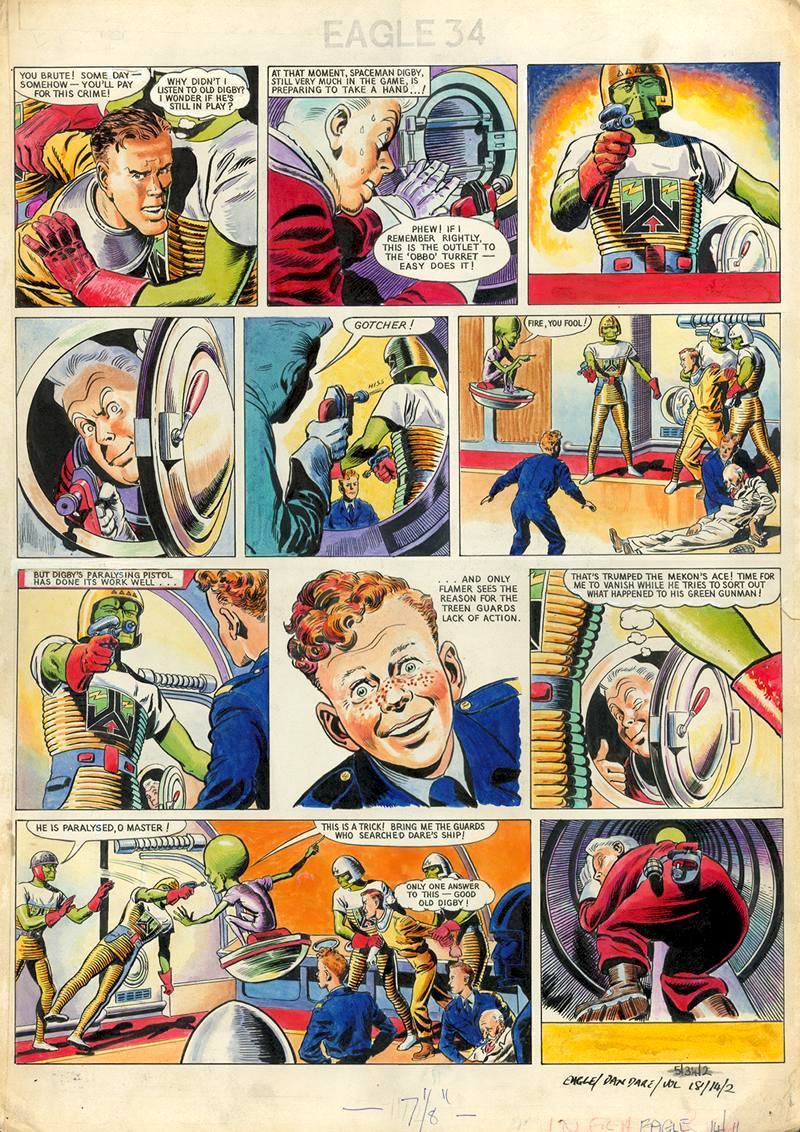 EAGLE Vol. 5 No. 34 - PRISONERS OF SPACE
From my own collection, this Eagle page 2 was illustrated by Desmond Walduck from Frank Hampson's visual roughs. I really like this page because it not
only moves the story narrative along nicely, it also contains some excellent humorous moments featuring Digby. Overall this is a brilliantly composed page
using vibrant colours and featuring some really well observed character portraits.
As you can see from the notes scribbled on the bottom of the artboard, the page was used again in Eagle Vol. 18 No. 14 when the story was reprinted.
The especially nice image of Digby looking out of the page (in the first frame of the second row of frames) was used as the basis for a t-shirt in the 1990's.
Click on the actual image to see a scan of it, or click on this link: Dan Dare T-Shirt
Original Artwork Showcase 3 >>
<< Original Artwork Showcase 1
Showcase Index
---
Return to the Dan-Dare.org Website
Dan Dare Copyright © 2018 The Dan Dare Corporation Ltd
Website Copyright © 2003 - 2020 Peter J. Inns