Original Artwork Showcase 3



A scan of a sequence of frames from the "Rogue Planet" Dan Dare story, the second part of a trilogy also consisting of "The Man From Nowhere" and "Reign of the Robots", which ran in Eagle during the mid-1950's.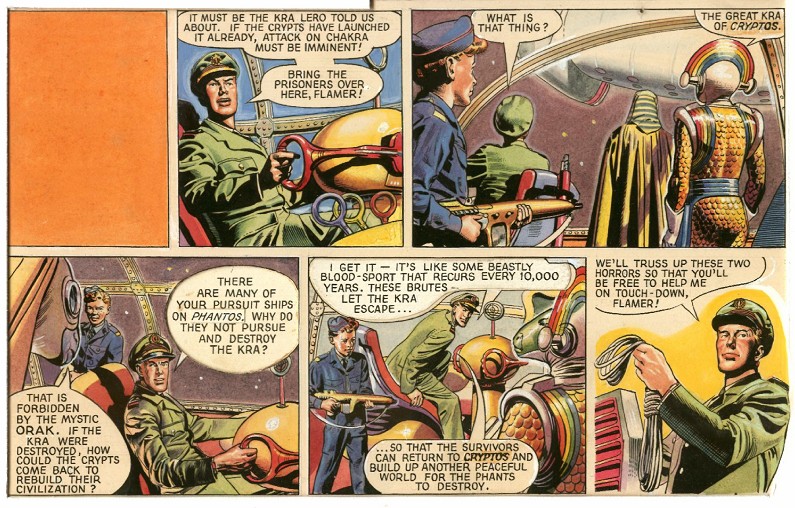 My thanks to Terry Doyle for supplying the above scan. Terry also provided this commentary to accompany the scan:

EAGLE Vol. 7 No. 33 - ROGUE PLANET
During the latter-half of the 1950's, Frank Hampson had switched to illustrating the DARE original artwork to 'same-size' as the printed page.
Whilst the drawing area shrank, Hampson's ability to pack-in so much detail, all precisely inked, is stunning to behold.
Of particular note, in this standout page, is the great sense of awe and wonder the reader shares with Dan and Co. (in Gogol's captured ship)
as they encounter the 'Great Kra of Cryptos' in outer space.
Hampson's art is immaculate . . . presenting some terrific portrait shots of Colonel Dan.
Original Artwork Showcase 4 >>
<< Original Artwork Showcase 2
Showcase Index
---
Return to the Dan-Dare.org Website
Dan Dare Copyright © 2018 The Dan Dare Corporation Ltd
Website Copyright © 2003 - 2020 Peter J. Inns