WARNING: This game contains scenes of cartoon violence which may cause offence to some people.
IF YOU FEEL THAT YOU MIGHT BE OFFENDED IN ANY WAY BY THIS GAME, PLEASE CLOSE THIS WINDOW NOW!
Score as many points within the time limit as you can by shooting the Simpsons characters. But be careful, as hitting some characters will lose you points. 5 points is also deducted for a missed shot. The game will start when the scrolling screen reaches the "Los Simpsons" building. When the game ends, click on "Comienzo" at the bottom of the game screen to play again.
If this game doesn't work on your machine, you may need to upgrade to the latest version of Adobe Flash Player.
Play "The Simpsons Home Interactive" game >>
Go to the "Homer Simpson Soundboard" page >>
Go to "The Simpsons Soundboard" page >>
Play "The Simpsons Movie: Bart Simpson's Naked Skate" game >>
Play "The Simpsons Movie: Wrecking Ball" game >>
Play the "South Park: Kill Kenny" game >>
Click here for some more Simpsons online fun and games >>
Here is a Simpsons desktop wallpaper picture (800 x 600 pixels):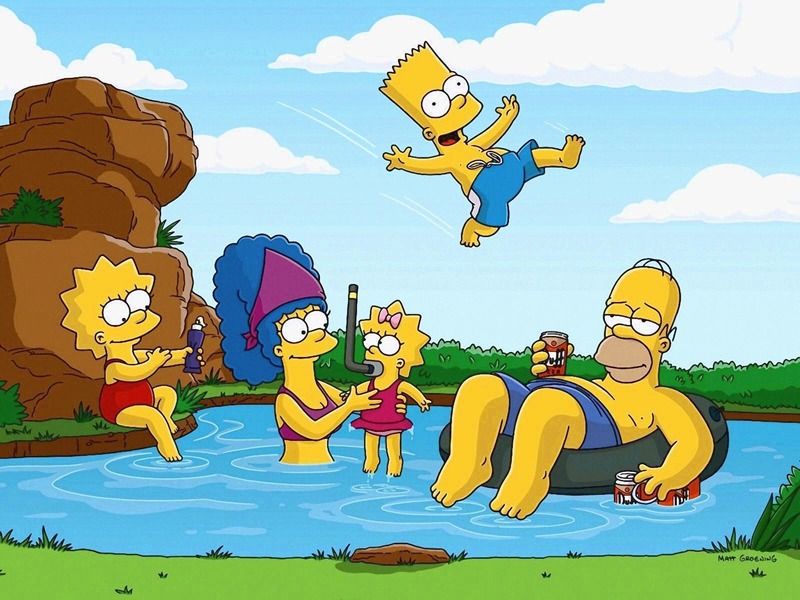 To use this picture as your desktop wallpaper, right-click on it with your mouse and then select "Set as Windows Wallpaper" or "Set as Background", or whatever similar option your particular browser provides in the right-click pop-up menu.
View a 1024 x 768 pixels version of the above wallpaper picture >>
View a 1280 x 960 pixels version of the above wallpaper picture >>
View a 1600 x 1200 pixels version of the above wallpaper picture >>
---
Return to the "Free Online Fun and Games" Website
Go to the Dan-Dare.org Website
Go to the Dan-Dare.net Website
All Trademarks And Copyrights Are Duly Acknowledged
Website Copyright © 2006 - 2020 Peter J. Inns