Original Artwork Showcase 5



A scan of a frame from the "Reign of the Robots" Dan Dare story, the third part of "The Man From Nowhere" trilogy.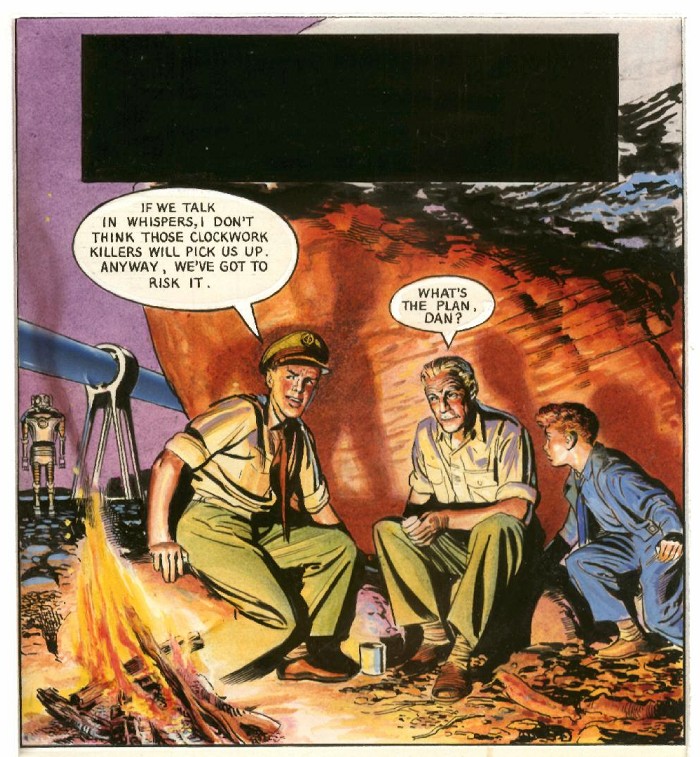 My thanks to Terry Doyle for supplying the above scan. Terry also provided this commentary to accompany the scan:

EAGLE Vol. 8 No. 29 - REIGN OF THE ROBOTS
Quite often, when looking at pages of the original art, you are suddenly impressed by pages that looked merely routine/unspectacular on the actual
printed pages of Eagle. Here is one such example. There is a great 3-D feel to this opening story frame, with the stages of foreground, middle-ground
and background. The colours really 'glow' . . . the crackling fire . . . the shadows cast against the giant boulder . . . the Elektrobot sentry in
the distance . . . everything works so well in this beautiful illustration! Hampson's inventiveness is deceptively subtle at first glance, but on
closer inspection the artwork reveals more of its craft.
Original Artwork Showcase 6 >>
<< Original Artwork Showcase 4
Showcase Index
---
Return to the Dan-Dare.org Website
Dan Dare Copyright © 2018 The Dan Dare Corporation Ltd
Website Copyright © 2003 - 2020 Peter J. Inns